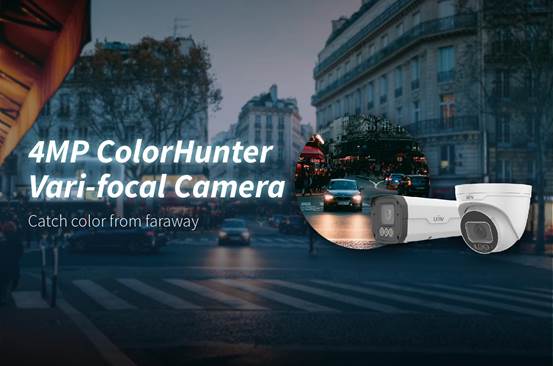 Conventional colorful cameras cannot zoom in the details of objects, which affects the acquisition of object information. Therefore, as a leading global manufacturer of professional video surveillance devices and solutions, Uniview has released a 4MP ColorHunter+varifocal camera to bring users clearer picture details and better color performance.
2.8 ~ 12mm: zoom in with details
Clear picture details are especially important for users' observation and judgment at night. The ColorHunter+varifocal camera has 2.8~12nm automatic focus and zoom lens, which can quickly auto-focus in use and easily zoom in to see image details, to take clear images of distant objects.

24/7 more reliable colorful images performance
The ColorHunter+varifocal camera provides colorful and high-quality images. On one hand, the use of a F1.2 large aperture, it makes sure more light get in. When in the low-light environment, it can still effectively restore color information. On the other hand, the use of comfortable three warm LEDs design which is soft and uniform, can still capture color details in the dark environment, and it makes the night as seem as the day.

Deep learning
Based on innovative hardware and algorithms, the ColorHunter+varifocal camera has more abundant and accurate smart intrusion prevention. According to targets' classification, the smart intrusion prevention significantly reduces false alarm caused by leaves, birds and lights etc., accurately focuses on human, motor vehicle and non-motor vehicle. In addition, the ColorHunter+ varifocal camera adopts deep learning-based people counting, which can accurately count the number of people while monitoring.

Application scenarios
The ColorHunter+varifocal camera can be applied to warehouses, courtyards or any low light indoors/outdoors and provides clear and colorful images. Meantime, it is also suitable for some scenes that need to enlarge the details of the picture, such as stations, parking lots, squares, etc.