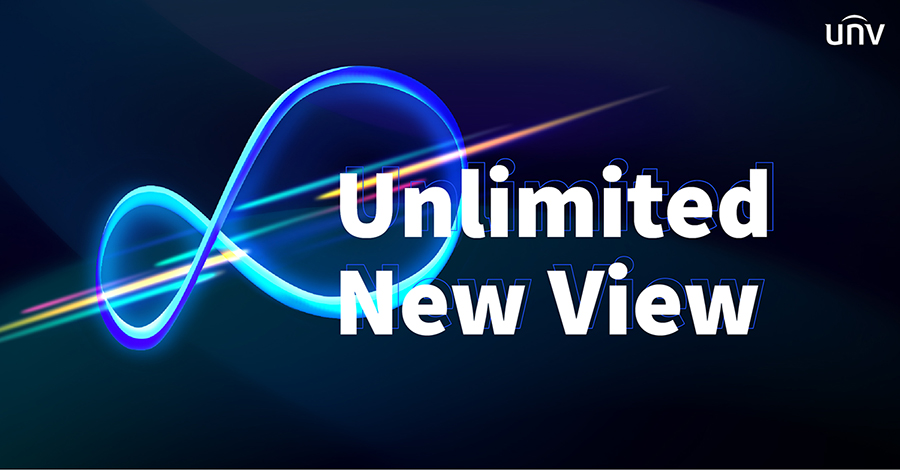 June 24th, 2022, Hangzhou
UNIVIEW, a global manufacturer, technology, and solution provider, revealed its new brand vision, Unlimited New View (global.uniview.com) in cooperate initiated business summit. Under its new brand vision, Uniview unites its ideology and concept forward for a new era of the convergence of AIoT. It does so on a mission to break the limits from industry thinking and as an industry leading company for what it means to be an integrated solutions and full track company.
Unlimited technology, unlimited scene and unlimited connection
In defining future, we need to look to the past. Uniview started with video technology that only uses visible light to gain a clear image in the early days. Needless to say, human has a very limited ability to perceive the light, which also limits the visible light range to a small segment in the electromagnetic spectrum. However, electromagnetic waves have a much more extended spectrum range than visible light, such like longer wavelengths infrared. Entering the new era of the convergence of AI and IoT, as well as to reposition the business dynamics accordingly and strategically, Uniview has built a main technology architecture for multi-dimensional perception and offers a wider range of technology, product and solution portfolio that are all domain, all-optical spectrum and all-weather adaptable.
"Under the new vision, with video technology as core, and full spectrum technology as extension, Uniview perceive and sense the world in an unlimited way. Rooted deeply into scenes with solutions applied to thousands of industries, Uniview continuously innovates AIoT digital intelligence product technology, to unlock the smart and connective city as well as life."
For instance, Unview poses smart intrusion prevention technology that tackles large-scale security challenge, people flow monitoring that helps intelligent analysis, heat map that reveals hidden details, colorhunter that captures colored information, etc. Different solutions using full spectrum technology and AI technologies enables thousands of industries to be smarter and better.
Practice unlimited new view with a pragmatic and innovative attitude
A pragmatic and innovative approach to achieve everything is the company's top priority, ultimate guide. Uniview insists on client based innovation and creation in a practical and pragmatic approach. In this attitudes, innovation and creation are client based, needs based, grounded and useful. Uniview stands its ground, and innovates to improve product while optimizes its quality. The company offers customized and innovative solutions that are specifically designed. It lower construction complexity, boost effectiveness and productivity.
Uniview's CEO, Hermit Zhang, summed up the meaning of Uniview's new vision, added: "We are empowering thousands of industries through our own technology and innovation capabilities. We will continue to innovate AIoT digital smart products, technologies and solutions, and explore the infinite connection between cities, lives, families and individuals."
Hermit says, "I look forward to working with more partners to achieve a win-win cooperation in more AIoT scenarios. To establish a relationships of equal coexistence, and learn from each other."