On 12th April, ISC WEST 2019 drew to a successful close in Las Vegas. Uniview, the pioneer and leader of IP video surveillance brought a full range of product lines, solutions, and partners to ISC West. The tailor-made products and the complete solutions, showcasing cutting-edge security technology and the strictest quality, bring high-resolution network surveillance transmission products and solutions worldwide. Uniview deeply cultivated the US market, and its popularity and strength are continuously increasing.
Uniview introduced a major expansion of its partner program including video management software (VMS), cloud, algorithms and components' suppliers, by speeding up innovation and delivery of new and value-added features for customers. This offers partners a wealth of technical and commercial resources, including in-depth technical support, development and integration toolsets, and up-to-date communications with Uniview experts.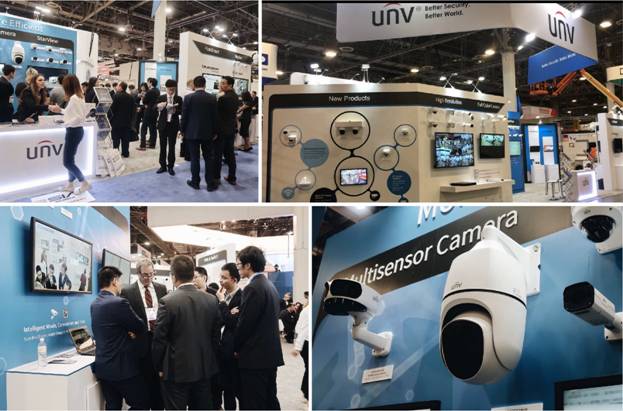 New products being featured at ISC WEST
Here's an overview of the new product areas which Uniview showcased.
1. Wi-Fi Kit
The Wi-Fi series is best suited for the retail industry due to its simple and fast to configure features. The kit uses data encryption technology to ensure that the entire process from video encoding, storage to reading is effectively encrypted, and the process is smooth without affecting the user experience.
2. Mini PTZ Dome Series
The mini PTZ Dome series consists of two products - mini PTZ dome camera for indoor use and PT dome camera for outdoor use. They are equipped with 5X 2.7mm-13.5mm wide-angle telephoto lenses, have 355° pan and 90° tilt movement range to achieve wider monitoring area.
4. Multisensor Camera
The Multisensor Camera gives users a seamless 180° coverage with great detail and minimal distortion. They have intelligent E-PTZ function with objective tracking and 4K ultra-high resolution with Starlight function.
5. Doorbell
Uniview doorbell is a powerful communication device, it helps users to secure premises. It features with accurate motion sensors, instant alerts and answer, as well as crystal-clear 1080 HD video. The user-friendly design is simple to install and setup.
More Reliable, More Efficient
Uniview insists on improving the quality of products, brings customers reliable products and solutions. At ISC West, Uniview provides IP67 and IK10 experiments for attendees to experience high quality. Except that, UNV cameras impressed users with various high-quality designs such as anti-reflection glass, car grade LED and more. NVR shells are flame resistant, making it ideal to prevent further damage.
Uniview concentrates on technological breakthroughs that push the edge of innovation which also improves the efficiency in video surveillance.
PixelSense
Uniview applies unique PixelSense technology which replaced hardware coupler to achieve more accurate and sensitive detection of real surveillance scene illumination. Currently, all IP cameras in Easy series support PixelSense technology.
USB Recovery Tool
Firmware would be easily damaged if the device is powered off when upgrading, or if the flash memory encountered a problem. Uniview provides emergency recovery tools which can help users easily recover the firmware with only one USB flash disk.
Free control
Uniview device support for control-free H.265, allowed browsers are: chrome, edge, firefox and work on both Windows and Mac.
Professional Solutions
In the vertical industries' solutions, Uniview demonstrated video surveillance solutions for retail, shopping malls, and industrial parks. Uniview also provided fine pixel LED display and EZCloud remote management solutions at headquarters. In the industrial park solutions, Uniview provides explosion-proof cameras for key areas' monitoring, provides intelligent analysis and high-ratio optical zoom PTZ dome in the perimeter, and supports the linkage with third-party systems in the operation center to provide a unified management platform.
"Uniview owns industry-leading technologies and solutions, and works tirelessly to build strong partnerships with global partners." Said Rex Ding, Director of North America Region. "In US market, we are dedicated to providing professional services and aim to lead in both technology and service. Additionally, we joined the SIA and ESA associations last year and have enjoyed increased communication with experts in local market."